Wells Cathedral fall: Investigation after fall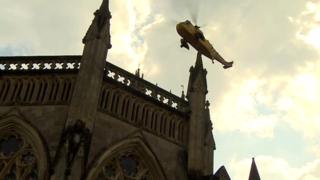 A "full investigation" is to be carried out at Wells Cathedral after a woman fell from a tower during a tour, Mendip District Council has confirmed.
The 68-year-old woman fell about 20ft (6m), during a tour near the top of the cathedral at the end of April.
Trapped for three hours in the bell tower, she was airlifted to hospital with hip, arm and leg injuries.
The council said it was awaiting a response from the injured women before it launched a "full investigation".
The woman, who had been part of a 12-person tour, was being briefed near the top of the cathedral when the accident happened.
'Undertaking own review'
"We have been in contact with the woman and have filed a health and safety report," said Lindsay Mann, from the cathedral.
"We are also undertaking our own review and will not be taking bookings for the tower or high parts tours until further notice."
A spokeswoman for the council confirmed it had received an incident report from the cathedral.
"We are currently awaiting the injured party's response to our letter before a full investigation is launched," she said.