Somerset flood allocations made with lighter-touch means-testing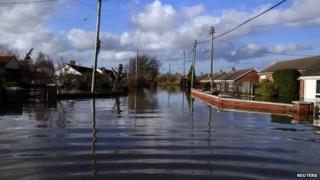 A group in charge of handing out funds to people in Somerset affected by flooding said it is using a lighter-touch method of means-testing.
About £1.1m was raised by the public in the wake of widespread winter flooding on the Somerset Levels.
Somerset Community Foundation has allocated £440,000 using this method in the early stages of handing out funds.
Chief executive Justin Sargent said the amount given depended on the level of financial hardship of each individual.
'Recovery phase'
The group said the assessments would not ask for data such as bank or mortgage statements but would need to know about household income and costs incurred due to the flooding.
"When we're giving grants to individuals, we're required to do it in relation to financial hardship because we are required to do it on a case-by-case basis. Every household in every different situation is different, it's not a flat-rate compensation payment.
"I think it's important for people to understand that," added Mr Sargent.
The organisation said that in the immediate aftermath, emergency grants were given within 48 hours of an application being made.
So far 350 households have been helped, with some given more than one grant.
"Now we're into the recovery phase, it's helping people get their lives and homes back together, so we're focussing very much on that," Mr Sargent said.
The group has said funding is now moving into a phase where larger sums of between £5,000 and £7,000 are likely to be sought.
"Now people are dealing with quite complex situations and it will take them time before they know what it is they want to apply for and what their costs are that aren't covered by insurance," said Mr Sargent.
He added they were also helping businesses and were working with the Bath and West Society to help farmers affected by the floods.
Every fortnight, a meeting is held in Bridgwater so people can access support services from the council and charities such as Citizens Advice and the Samaritans.
The charity has said it is likely to allocate a total of about £500,000 by the end of the month.