Bath donors warned not to give money to beggars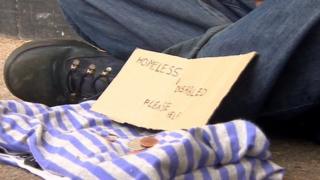 People who give money to street beggars in Bath are being warned their "kindness could kill".
A campaign, launched earlier, claims not "donating responsibly" could feed drug and alcohol misuse and give Bath an "easy to beg in" reputation.
The campaign, supported by homeless charities, the council and police, prompts people to donate to charities.
Councillor Manda Rigby said "aggressive begging" was "an ongoing problem" which had to be addressed.
The initiative is designed to encourage people to donate to the campaign, with funds shared out between local homeless support groups.
'Begging magnet'
Ms Rigby claimed "many" of the city's beggars were not homeless and those "choosing to beg for a living" must be tackled.
"People in the city centre are consistently faced with aggressive beggars and while people think giving money to beggars is being helpful - it is not," she said.
"There are people who are homeless and need support in a compassionate manner and we have established charities to support them.
"But we can't allow Bath to become a magnet for people who via aggressive begging can actually make quite a lot of money."
Over a six month period last year, police in Bath were called out to 600 reports of begging.
Big Issue seller Tara Gill said her business had been affected by beggars moving on to her pitch.
"It takes me about three hours to make £10 in Bath on the issues," she said.
"It's a struggle because people are more generous to beggars for some reason."
John Isseris from Julian House Homeless Shelter said: "An awful lot of beggars are not homeless, and there are people who come in because they can make a living from begging."