Bath Royal United Hospital announces £110m transformation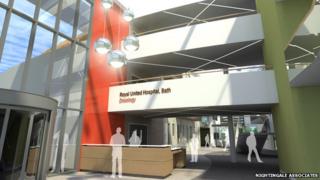 Bath's Royal United Hospital is to undergo a £110m rebuild including a new cancer centre, pharmacy and integrated therapies unit.
The NHS Trust said the work - to be carried out over the next five years - would enable it to deliver "a first class diagnostics service".
The building programme also includes a new records and IT centre.
CEO James Scott said: "Transforming the site means we can transform the services we provide to our patients."
He also added his thanks to the public for contributing to The Forever Friends Appeal which is raising £8.5m towards the cost of the new cancer centre.
The Royal United Hospital serves 500,000 people.