Bishop of Bath and Wells to stay in Bishop's Palace home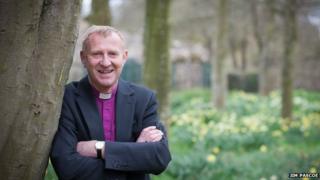 The Bishop of Bath and Wells will continue to live at the Bishop's Palace, a senior church body has ruled.
In a break with centuries of tradition, Church Commissioners had wanted to move him out of the medieval palace to allow him more privacy.
The proposal to house him in a rectory led to a campaign backed by the Bath and Wells diocese, and 2,000 people signed a petition against the move.
But the Archbishops' Council overturned the proposal, saying it was unsuitable.
Tessa Munt, Liberal Democrat MP for Wells, who supported the protest campaign, said: "It's one for justice, fairness and common sense."
The decision comes after a two-day hearing by the senior church officials.
'My best interests'
The Right Reverend Peter Hancock is due to be formally enthroned as the new bishop at Wells Cathedral in June.
The Church Commissioners are responsible for the church's assets, investments and housing bishops.
Bishop Hancock said: "They've got a responsibility to make sure that their decisions are prudent and financially wise and actually I do think that they had my interests at the very heart of what they were trying to do.
"I don't think they were trying to disadvantage me; they were doing what they thought was best but they perhaps made their decision without due consideration of the local perspective."
He added that the process had been "unsettling" that but he and his wife could now look forward to moving in.
In a joint statement, the diocese and the Church Commissioners said: "We appreciate the thoroughness of the council's consideration and the swiftness with which the decision has been reached.
"This outcome enables all concerned to look to the future, to celebrate the arrival of the new bishop and to welcome Bishop Peter and his wife Jane when they arrive in June."