Water supplies in Burnham-on-Sea, Highbridge, Brean and Berrow restored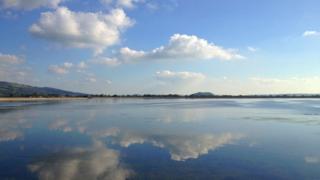 More than 23,000 homes and businesses in part of Somerset have had their water supplies restored after spending much of the night without services.
The Bristol Water pipe supplies in Burnham-on-Sea, Brean, Highbridge and Berrow areas were affected when an 18-inch (46cm) main burst on Thursday.
The burst occurred on the A38 Bridgwater Road, between the motorway bridge and the East Brent roundabout.
The company said services were restored shortly after 05:20 GMT.
Paul Kelson, from Bristol Water, said people should run their taps if they notice any discolouration of their water.
"Sometimes when a pipe empties there's sediment but we did do it carefully last night, so hopefully that won't be a problem," he said.
"And we just really apologise to customers for the inconvenience."