Bath's Oldfield School warned of 'serious breakdown'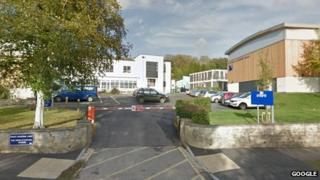 A "serious breakdown" in how an academy in Bath is managed and governed has been highlighted in an official report.
Oldfield School was visited in March by the Educational Funding Agency, which manages the funding of academy schools. It followed a critical Ofsted report.
In a letter to the governors, an education minister said unless concerns were addressed he would move to issue a formal warning.
Head teacher Kim Sparling resigned on Thursday.
Pupils were told of Mrs Sparling's departure during morning assembly and a letter was sent to parents.
The school was inspected in December by Ofsted and although a number of issues were highlighted surrounding governance it did not go into specifics.
'Funding agreement'
The letter from the Parliamentary Under Secretary of State for schools, Lord Nash, said if the notice was not complied with he "would be entitled to enforce the terms of the academy's funding agreement" to "ensure that the shortcomings identified... are eliminated".
The Educational Funding Agency (EFA) report said governance at the school was weak despite governors being keen to contribute to the success of the school.
It said actions must be taken to improve four key areas identified by Ofsted: the trust structures and accountability; governance and governance operations; safeguarding; and financial governance.
It also noted the academy had "minimal collaboration" with other schools in the area limiting the opportunity to share effective teaching methods.
A number of "staff grievances and HR issues" were raised with the review team, but these were found to be outside the scope of the EFA review.
Oldfield School converted to an academy in February 2011 and has 775 students aged 11-18.