Thousands in Burnham-on-Sea, Highbridge, and Berrow without water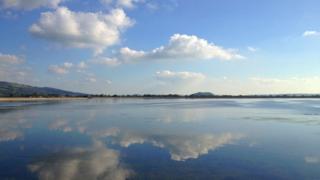 More than 12,000 homes and businesses in part of Somerset are without water after an 18-inch (46cm) main burst.
The Bristol Water pipe supplies Burnham-on-Sea, Highbridge, Berrow and the surrounding area.
The burst occurred on the A38 Bridgwater Road, between the motorway bridge and the East Brent roundabout.
A company spokesman said a new pipe was now in place, but must be pressure tested before the water can go back on.
He said if that went to plan the company could refill Cheddar Reservoir which feeds the affected area.
However, restoration of supplies was likely to take the rest of the evening and he could not guarantee people would have their water supply restored by the end of Thursday.
Are you without water? How are you coping? Send us your comments. You can email us at haveyoursay@bbc.co.uk using the subject line 'water'.