Bath church bid to restore and quieten 'loud' bells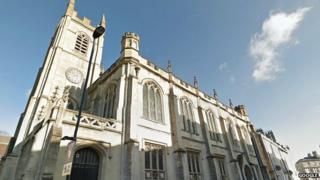 A church has launched an appeal to restore its "very loud" bells with measures to make the bells quieter.
The eight bells at Christ Church, on Julian Road, Bath, have not been heard for over a decade because the church's bell frames have been declared unsafe.
Now the church wants to raise £115,000 to restore the bells to working order.
But trustees said as the bells "haven't been heard for some time" and were "very loud", they were planning to install soundproofing.
The small 18th Century church stands in a closely built-up area of north Bath.
Soundproofed floor
To avoid disturbing neighbours, the church council and trustees are planning to install measures to "control and direct" the ringing sound upwards.
"Tests have confirmed that our bells are very loud," said a spokesman for the church.
"This is because they hang right inside the open louvres in the tower, so part of the proposal is to block up the louvres, leaving only a small gap at the top."
The church hopes the volume can be controlled with a soundproofed floor above the bells and a trap door to let the sound out through the top of the tower.
"When the trap-door is closed the bells should become barely any louder to someone on the pavement outside than ordinary passing traffic," the spokesman said.
"Over £50,000 has already been raised and we are now looking to the wider Bath community to help secure the remaining funds needed."