Avon and Somerset Police stations closure plan criticised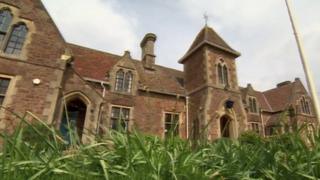 A Bristol MP has said plans to close 27 police stations across the Avon and Somerset force area leaving no police presence in some areas is "a mistake".
The force wants to reduce the number of buildings it occupies across Bristol and Somerset by 36% by 2019.
Dawn Primarolo, Labour MP for Bristol South, said she would press the police commissioner to "think again".
Chief Constable Nick Gargan said the closures were necessary because of cuts to his budget.
Meanwhile, criminal lawyer Ed Boyce said the move could turn police into "expensive taxi drivers".
"Police officers who are rightly paid considerable amounts of money for the job they undertake are simply going to be used as expensive taxi drivers," he said.
Of the 27 stations due to be closed, 23 will move to a smaller base, often sharing with other services, and four will disappear.
Seventeen other stations will continue to operate as they are currently.
'Face-to-face'
"With the very significant cuts imposed on Avon and Somerset Police by this government it was inevitable that some tough decisions had to be made," said Ms Primarolo.
But shed added: "My constituents expect to be able to speak with a police officer, face-to-face, when they need to.
"I shall be pressing the police commissioner to think again about the complete closure of Bishopsworth, and also asking her to explore whether a shared office in Hartcliffe at Symes Avenue is possible."
Under the plans anyone arrested will be taken to one of three new police centres at Bridgwater, Keynsham and Patchway, which house custody suites.
Sue Mountstevens, Avon and Somerset Police and Crime Commissioner, said the new police centres would enable officers to serve people better.
"People are not using some of the buildings we have got - the public are not visiting them," she said.
The Conservative MP for Bridgwater and West Somerset, Ian Liddell-Grainger, said Mr Gargan had little choice but to close stations.
"If the chief constable can save money to put money into frontline assets, well, we've all got to work together to get that done."