Bishop of Bath and Wells home move debated by Archbishop's Council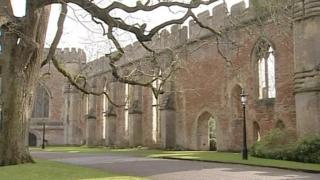 A decision is being made on whether the Bishop of Bath and Wells should move out of a flat in the Bishop's Palace.
The Archbishops' Council is holding a two-day hearing over the proposal made by the Church Commissioners.
The diocese and council have declined to comment as the process is on-going.
But Commissioners' representative Reverend Arun Arora, said: "Living and housing a bishop in a place where there are 61,000 people coming to a year is not sufficiently private."
If the plans are approved, the Bishop would move into a former rectory in nearby Croscombe until a permanent home is found in Wells.
But the diocese, some churchgoers and Liberal Democrat Wells MP Tessa Munt are against the move, with about 2,000 people having signed a petition organised by opponents.
The Archbishops' Council sits at the top of the management structure in the Church of England and has the power to make a final decision about the case.
Three members of the council will debate the issue and will also hear the views of the Bishop, the Right Reverend Peter Hancock.
Although a decision will made at the end of the hearing, the outcome may not be made public immediately.