Devon and Somerset Staghounds trio deny illegal hunting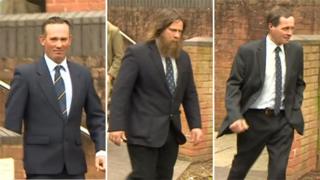 Three members of the Devon and Somerset Staghounds have appeared in court charged with illegally hunting stags.
Huntsman Donald Summersgill and joint hunt masters Rupert Andrews and David Greenwood face a total of four charges.
Mr Greenwood denies two charges relating to alleged incidents of hunting with dogs on 14 September and 24 October.
Mr Andrews' charge relates to the September incident and Mr Summersgill to the other. Both plead not guilty.
Both cases have been adjourned and the men, who are all members of the Devon and Somerset Staghounds, are due to re-appear at Taunton Magistrates Court on 30 May.
The cases are based on video evidence gathered by the League Against Cruel Sports.
The defence has been given five weeks to study the footage to see whether the cases fall within the exemptions in the law, where hunting can take place for research and observation purposes.