Tenant fears over Crown Estate housing sell-off in Somerset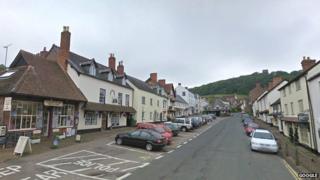 Tenants living in housing owned by the Crown in Somerset claim a plan to sell off homes is ripping communities apart.
The Crown Estate, which is one of the largest landowners in the country, is planning to sell off up to 45 of its properties around Taunton and Dunster.
Tenants are being given the option to either buy or up to six months notice period to vacate their properties.
But Peter Franklin, a tenant in Thurloxton, said the Crown was "playing fast and loose with people's lives".
In Somerset, the Crown Estate owns about 166 properties in areas including Thurloxton, Neroche, Dunster and Staple Fitzpaine.
With all of its net revenue paid to the Treasury, Paul Clark from the Crown Estate said it has a "clearly commercial mandate".
"We have a proposal to sell around 40 houses in the Taunton and Dunster areas and we appreciate that may concern some of our tenants," he said.
"That's why we're making the offer to tenants to buy the houses that they rent from us or alternatively we're offering up to six months notice period to tenants."
'Home for life'
But Mr Franklin insists the Crown Estate has a "far higher level of responsibility" then other businesses.
And Vicky Pearson, who has been a Crown tenant for 15 years, said it was ripping communities apart.
"They've got us over a barrel in legal terms," she said.
"OK they do own the properties but if you ask any Crown Estate tenant the first thing they will say is we were told this was a home for life."
A public meeting is due to be held later at Neroche Village Hall to discuss the issue.