Somerset County Council: 'Virtual headteacher' for children in care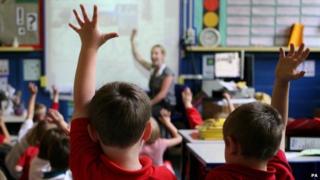 A "virtual headteacher" is being appointed by Somerset County Council to tackle the poor educational attainment of children in care.
The role is aimed at ensuring goals set out in pupils' individual support plans are better met by schools.
Cabinet member Frances Nicholson said the headteacher would also control how pupil premiums were spent on children in care to give them tailored support.
Pupil premiums are government grants to help vulnerable pupils in school.
Scattered pupils
Children who qualify for them include those in care, with disabilities, or whose family is serving in the armed forces.
The virtual headteacher will be a qualified teacher who will take up the post in September and will have responsibility for about 500 children across 260 schools.
Eight per cent of children in care in Somerset got five A* to C GCSEs including Maths and English last year, compared to 15% of children in care nationally.
The completion rate of personal education plans (PEPs) which set out a pupil's individual support plans in school also needed improving.
Figures from the council report show in the first quarter of 2013-14, only 66% were completed, although this has since risen to 77% after a renewed push by the council.
Nationally, under government changes, the pupil premium for children in care has been doubled to £1,900 per pupil a year.
The money only goes to school-age children and will be handed out from the first day a child is put into care, rather than after six months in care.
The virtual headteacher will also oversee the entire children looked-after (CLA) education service budget of £289,000 a year, which comes from the central school budget.
Although the virtual headteacher's salary has not been disclosed, it will be paid for directly from the county council's overall budget.