Somerset barn owl webcam watched from across the world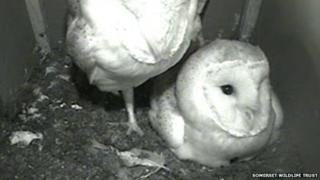 A webcam in a nesting box occupied by two breeding barn owls in Somerset has attracted hundreds of thousands of hits from across the world.
It is one of 286 boxes installed across the county by Somerset Wildlife Trust (SWT) and the Hawk and Owl Trust to fight the decline in barn owl numbers.
The SWT said the webcam had almost 78,000 page views this month compared with about 8,000 in April last year.
The owls, named Brenda and Boris, have seven eggs, with two owlets now born.
The first chick hatched on Wednesday and was named Bard as it was born on William Shakespeare's birthday.
The second hatched in the early hours of Saturday and the third egg is expected to hatch on Monday.
Project manager Rosie Withill said: "Lots of people are addicted. Everyone at work is hooked. One school has it on their interactive white board all day.
"It's a fantastic opportunity to see something you wouldn't normally get to see."
People are logging on from countries including Japan, Fiji, Russia and Brazil, she said.
Chris Sperring, from the Hawk and Owl Trust, said: "The Somerset Levels contains one of the three most important barn owl strongholds for this species in the country.
"The prolonged flooding during the winter of 2013-14 will have affected that population, but until we begin nest checking in the summer we won't know just how much it has been affected."
The trust said the best way to boost the population was to ensure rough grassland thrives, which is a good habitat for owls' food such as voles and mice.
The two trusts aim to have 335 nesting boxes in every parish by the end of 2014.