Devon and Somerset Fire and Rescue 'does not have flood plan'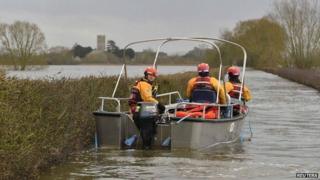 A fire brigade in Somerset does not have a written emergency plan to deal with flooding, a union has claimed.
Large parts of the Somerset Levels spent much of the winter under water after the South West of England was battered by high winds and heavy rain.
The Fire Brigades Union has said it was "amazing" no written emergency plan currently existed, covering staffing and equipment issues.
Devon and Somerset Fire and Rescue has not yet commented.
Union official Trevor French said: "It is amazing, for flooding we don't have a written down plan basically. We have an understanding but we need to have an integrated risk management plan for dealing with flooding.
"Flooding is going to become more relevant in our lives so we need to sit down and have a good plan which will include issues of training, issues of personal protective equipment and maintaining fire cover.
"These are the things we need to learn from, to make sure that next time it happens, we are prepared."
The revelation came following a Freedom of Information request submitted by the BBC. The request revealed during the major incident period between 23 Jan and 14 March.
Some 870 firefighters carried out flood relief work on the Somerset Levels
Devon and Somerset firefighters worked a total of 4,985 hours
The operation cost Devon and Somerset Fire and Rescue £490,000
Some 87 staff from 25 fire services were called in and worked a total of 900 hours
Suit swap
Mr French said firefighters would come off shift, swap dry suits, and go to the flooded areas to work.
There were instances when the suits were simply handed over and not cleaned from the contaminated flood water due to the urgency of the situation, he said.
During the flooding, support was provided to people in the village of Muchelney which was completely cut off due to flood water.
Deliveries of food and fuel supplies were made by boat to residents there and children were helped to get to school.
Mr French said another area of concern was the reduced level of staffing at two fire stations in particular - Bridgwater in Somerset and Barnstaple in Devon. He said the strain on retained firefighters who worked up to 13 hour shifts for continuous days.
He said: "Our planning wasn't as good as it could have been, we're looking to learn for the future."
Although the fire service spent £490,000 in the flood operation, the aim is to recoup £357,000 of the costs from central government.
The fire service is responsible for paying out the first £133,000 of the cost under the scheme.
Most of the money, £227,000, was spent on staff from 25 other services and they were needed to operate pumping equipment, use boats and logistical vehicles.