Bath's Oldfield School head complains to Michael Gove about Ofsted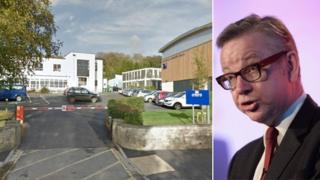 The head teacher of an academy school in Bath has written to the education secretary to accuse Ofsted inspectors of being "unprofessional".
A recent inspection at Oldfield School highlighted "leadership" problems and a number of staff complaints.
Head Kim Sparling wrote to Michael Gove claiming inspectors had ignored positive evidence and comments.
The Department for Education (DfE) said it was conducting a review into the school.
The DfE said it would not comment further but confirmed Mr Gove had replied to Ms Sparling. A spokesman refused to reveal the contents of the letter.
Ofsted said inspectors were required to "uphold the highest professional standards in their work" and "to ensure that everyone they encounter during inspections is treated fairly and with respect".
Ms Sparling, one of about 800 national leaders of education, is currently away from the school on sick leave.
'Special measures'
The three letters she sent to Mr Gove, in December, January and February, were released following a Freedom of Information Act request by the BBC.
Michael Gove replied to one of the letters but the contents of the reply were not disclosed by the school.
Oldfield had previously been rated by Ofsted as "outstanding" but December's inspection raised concerns over how the school was governed.
Inspectors said the "quality of leadership and management" needed "further improvement".
In a letter dated 19 December Ms Sparling said she was writing to "complain strongly" about Ofsted.
She said the academy gained an outstanding rating in September 2012.
'Negative evidence'
"Last week we have been placed in special measures," Ms Sparling said.
"As the governors, staff and procedures have not changed how can it be that in 14 months the Ofsted view has changed so dramatically?"
In the second letter, dated 30 January, she claimed inspectors "took no notice" of positive remarks from staff and parents and claimed Ofsted only considered "negative evidence".
A more in-depth draft Ofsted report following a visit from the education watchdog in December was leaked by a children's charity website but, as it was never officially published, its contents cannot be reported for legal reasons.
Instead Ofsted issued a letter, known as a section eight report, but this did not elaborate on what specific problems the academy faced.
Oldfield School converted to an academy in February 2011 and caters for 775 students aged 11-18.