Defra increases grants for flood-hit farms to £35,000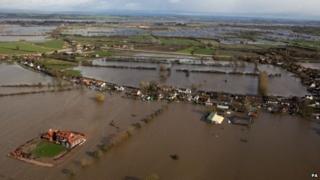 Recovery grants for farmers hit by flooding are to be increased from £5,000 to £35,000.
Environment Secretary Owen Paterson made the announcement from Muchelney on the Somerset Levels, which was marooned during the floods.
The money - available from 28 April - is to help cover the costs of restoring flood damaged agricultural land.
Some £10m has been made available to help farmers through the Farming Recovery Fund.
'Not sticking plaster'
Bids for grants of up to £5,000 from phase one of the fund - which opened on 28 February - are already being taken.
Farmers who have already applied for a grant in phase one will also be able to apply for a second larger grant in phase two, up to a collective total of £35,000.
Ian Johnson of the National Farmers Union (NFU) welcomed the additional money but said it had taken a "crisis to get here".
"This money is not a sticking plaster - it's vital people on the ground are listened to consistently," he said.
"Some farmers are questioning if the money is being used to patch things up - what they need is the confidence to go back on the land."
Somerset County Council has paid for two co-ordinator posts from the Farming and Wildlife Advisory Group South West to help farmers negotiate their way through the grant applications.
Damage unknown
Martin Brake has farmed dairy cattle and hay at Kings Sedgemoor for more than 30 years.
Half his farm was under water for more than two months during the recent floods and some land remains too wet to go on to.
"I still don't know how much damage has been done," he said.
While he welcomed the money for those farmers very badly hit by the floods he said he could not apply as his land is a Site of Special Scientific Interest which means the pasture must be left to reseed naturally.
"I'd rather see the money go towards flood prevention schemes," he said.
"We don't want to be in the same position next year."
For those farmers who do apply for grants to reseed their land the NFU said every 100 hectares would incur costs of £15,000 in seed alone.
"This amount could easily double once the costs of preparing the ground, applying the seed and re-establishing a healthy grass sward are taken into account," said NFU chief economist Phil Bicknell.