Somerset floods: Submerged '£101,100' Seat Toledo car scrapped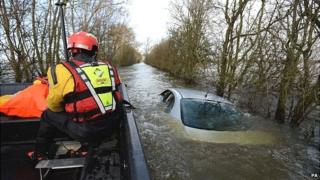 A car submerged on the Somerset Levels for months has been scrapped, despite attracting a £101,100 bid on eBay.
Hubert Zajaczkowski, 21, decided to auction his Seat Toledo last month to raise money for victims of the floods.
Despite him describing the car as not working, it attracted more than 120 bids from 24 people in just three days.
But Mr Zajaczkowski said he has since scrapped the car after the winning bid proved to be a hoax and he was unable to find a single genuine bid.
The car, a 15-year-old 1.8 litre saloon, was submerged under several feet of water for 11 weeks after Mr Zajaczkowski had to abandon it near Muchelney on Christmas Eve.
It became a familiar sight during media coverage of the flooding and Mr Zajaczkowski decided to capitalise on its fame and auction it for charity.
Mr Zajaczkowski said the highest bidder - who offered the £101,100 - had refused to pay, claiming it had been intended as a joke.
"I also contacted about 20 to 25 lower bidders but they never got back to me," he said.
"I haven't sold anything on eBay before but I tried and there wasn't a single genuine bid."
The online auction site had offered to help the 21-year-old following the auction, but Mr Zajaczkowski said he had only been refunded his listing fee.
But a spokesman for the company said Mr Zajaczkowski had been advised "well before the listing ended" about its pre-approved bidder protection, which allows bidders to be vetted.
"We were sorry to hear of the problems with this auction," he said.
"But the auction ended without pre-approved bidding and regrettably with a non-genuine highest bidder.
"We have raised over £50 million for good causes through high-profile auctions and completely reject the claim that we are not able to handle these auctions."