Bath Rugby club exit fears increase over delayed development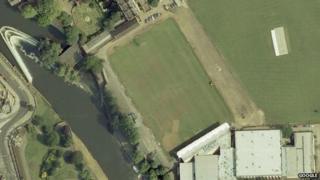 Fears are growing that Bath Rugby could leave the city if it is deemed impossible to redevelop its ground.
The club wants to grow its footprint to accommodate greater crowds but has recently been told it cannot have more of the Recreation Ground for a stadium.
A Bath Chamber of Commerce spokesman said the uncertainty was damaging for the city and it would be "a disaster" if the club looked to move away.
Club officials say they remain committed to redeveloping the Rec.
Previously, it has threatened to pull out of Bath saying the ground's current state was hampering its future plans on and off the field.
The Rec holds around 12,000 supporters at present but the club, which leases the ground from the Recreation Ground Trust, wants to increase capacity to take a further 4,000 people on match days.
Recently, though, a group of residents appealed against the proposed redevelopment which a judicial panel upheld.
'Overwhelming support'
Ian Bell, from the chamber, said the business community was fully behind the plans which would be "good for the city and good for the club".
He said: "We know they're bending over backwards and trying to solve all the problems in order to stay but it would be difficult for them to get to the capacity they need on the existing footprint.
"It would be an absolute disaster if they then decide the only way they can do that is to move somewhere else."
But that is not being considered by the club which says it is proceeding with its plan to develop the existing site.
"We are continuing with our proposals to provide a world-class sporting, community and cultural venue at the Rec, as overwhelmingly supported by the people in and around Bath," said a club spokesman.