Hinkley Point anti-nuclear protest held over power price deal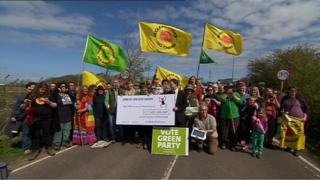 A protest has been held by the Green Party outside Hinkley Point power station over claims the government has broken EU subsidy rules.
Last year the government gave planning consent for a new nuclear power plant to be built in Somerset.
Green Party MP Caroline Lucas said: "This is essentially an inappropriate use of state aid."
This week the European Commission began assessing the power price deal made between the government and EDF Energy.
Energy Secretary Ed Davey said the government has examined the plans closely and it will mean a good deal for consumers.
'Massive public subsidy'
The power price deal is how much the government will pay for the electricity generated from the new plant.
Ms Lucas added: "The government came to power saying they would only promote nuclear if it could be done with no public subsidy and yet it is perfectly clear there is a massive public subsidy going into new nuclear if it happens here at Hinkley."
Some 100 protesters took part in the demonstration earlier.
Developers EDF Energy will restart its preparatory works in May after work was "on pause" since last April.
The works will include putting in drainage and building roads and roundabouts to ease the flow of traffic onto the site.
EDF Spokesman David Eccles said: "Work will ramp up in May and the main activity won't begin until the autumn assuming everything goes well."
Legal hold-up
The European Commission announced it would investigate the subsidised power price deal and whether it had breached EU competition rules in December.
Mr Eccles said: "This is a matter between the government and the European Commission of course - a decision is likely to be made by October, that's what we're planning towards and hoping towards.
"All the indications thus far are positive. For example the consultation period was only a month and all the reports have been received and we understand the officials are now going through those submissions."
Another hold-up is a legal challenge by the Irish National Trust.
An Taisce said EU directives meant that being in a neighbouring country Irish people should have been consulted about the environmental risks.
Three judges will hear the judicial review in the Court of Appeal in July.