Somerset M5 pile-up: Fireworks organisers says smoke was 'normal'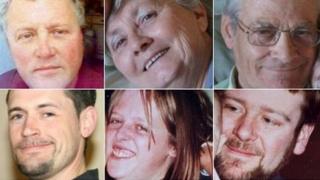 Smoke levels from a fireworks display held on the night of a motorway pile-up that killed seven people were "normal", an inquest heard.
Display organiser Geoffrey Counsell has been giving evidence at the inquest into the deaths in the crash on the M5 near Taunton in November 2011.
Mr Counsell said the mist and fog were terrible but denied a bank of smoke drifted towards the motorway.
The display took place at the Taunton Rugby Club, close to the M5 crash spot.
'Nothing unusual'
Mr Counsell, who was cleared of health and safety breaches last year, told the inquest he had staged more than 100 displays over 20 years and was a member of the British Pyrotechnists Association.
This included an event at Taunton Rugby Club in 2009 that passed without incident, he said.
He told the inquest he had met with club officials before the November 2011 display to carry out a risk assessment.
He said risk assessment reports he produced were written after the event.
Describing the weather as "miserable, he added: "One minute it was there, next minute it was clear."
Visibility changed constantly all afternoon but, he said, the smoke generated from the display was no more than normal.
He said: "Of course there was smoke. These are fireworks but there was nothing unusual. Nothing I haven't experienced before."
The fireworks organiser said he became aware of the crash on the motorway while he was cleaning up after the display.
He said none of the training he had received to run firework displays had mentioned smoke being a hazard of firework displays.
The inquest, at Shire Hall, in Taunton has now finished hearing all the evidence and West Somerset Coroner Michael Rose adjourned proceedings until 17 April when he plans to record his conclusion.
The seven people who died were:
Michael Barton, 67, and his daughter Maggie, 30, from Windsor in Berkshire
Grandparents Tony and Pamela Adams, from Newport, South Wales
Battle re-enactor Malcolm Beacham, 47, from Woolavington, Somerset
Lorry driver Terry Brice, 55, from South Gloucestershire
Lorry driver Kye Thomas, 38, from Cornwall