Somerset badger cull police costs revealed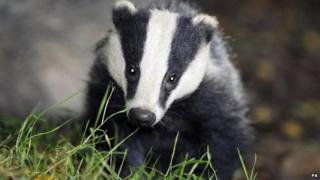 Policing the badger cull in Somerset cost £739,000, new figures released by the Avon and Somerset force reveal.
A breakdown of the figures shows the initial six week cull cost £541,000 with an extra £198,000 for the three-week extension.
By far the greatest single expenditure - £575,000 - was for rest day working, overtime and unsocial hours payments.
The costs for the badger cull will be met by the Department for Environment, Food and Rural Affairs (Defra).
Deputy Chief Constable John Long said careful planning had avoided the need to take officers away from normal duties.
The cull in Somerset began on 27 August and concluded on 1 November last year.
Its aim was to kill 70% of the badger population to test how effective, humane and safe a cull could be.
Government ministers and the National Farmers' Union believe culling badgers will curb TB in cattle.
Opponents say shooting the animals is not a good way to control the disease.
Defra's own independent assessment showed that culls in the two pilot areas of Somerset and Gloucestershire were not effective, and raised questions about their humaneness.