Hundreds of Somerset motorists sent warning letters for speeding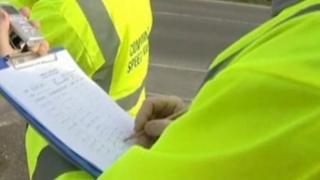 Police in Somerset have sent out nearly 700 warning letters in the past month telling motorists they have been seen breaking the speed limit.
The motorists had been spotted by Community Speedwatch volunteers who stand at the roadside recording registration plates and vehicle speeds.
Avon and Somerset Police said traffic officers would be deployed to deal with the most "persistent offenders".
"This is about keeping Somerset safe," Sgt Andy Murphy said.
"[Community Speedwatch] schemes are hugely effective... and it is empowering local communities to take control of their own complaints supported by the police," Mr Murphy added.
"One of the big things for us is that it really directs our policing units, [so] where we have people who flout the speedwatch groups our road policing units will go after them.
"What we won't tell them is where our roads policing units do catch repeat offenders... we are targeting them and they will be summoned to court."