Somerset M5 pile-up inquest: 'Wall of smoke' moved across pitch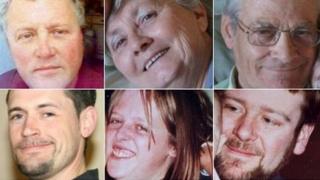 A wall of smoke moved across a field after a fireworks display held moments before a huge pile-up on the M5, an inquest has heard.
Thirty vehicles crashed on the M5 near Taunton, Somerset, in November 2011, leaving seven people dead.
Eyewitness Sarah Silverwood said smoke from the display "started to build into a wall".
She said the "wall" of smoke at Taunton Rugby Club was 30ft (9m) high, the same height as the main stand.
'Weird' fog
Speaking at the hearing at Shire Hall, Taunton, Mrs Silverwood said the firework display was "beautiful".
She added: "This wall started to move across the pitch. It was almost as if the pitch immediately disappeared and by the end of the display it reached the crowd and you were sort of in it."
Mrs Silverwood said that because of the density of it she and her husband each grabbed the hands of their children so that they would not lose them as they walked back to their car.
Last year, the man in charge of the fireworks on the night, Geoff Counsell, faced health and safety breaches. He was later cleared.
Another eyewitness, train driver Andrew Gregg was also called to give evidence. He described the fog on that night as "weird".
The railway line runs close the M5 motorway spot where the crash happened.
Mr Gregg told the court there had been fog from Exeter until it cleared at Bridgwater.
"The fog was so thick, you really couldn't see anything. I have not seen a fog like that in the job I am doing for a long time," he said.
He said it was the type of fog he would only see once every five or 10 years.
He added: "You do get fog down there but not as bad as that night in question."
The inquest at Taunton Crown Court is expected to last several weeks.
Those who died were:
Michael Barton, 67, and his daughter Maggie, 30, from Windsor in Berkshire
Grandparents Tony and Pamela Adams, from Newport in south Wales
Battle re-enactor Malcolm Beacham, 47, from Woolavington in Somerset
Lorry driver Terry Brice, 55, from South Gloucestershire
Lorry driver Kye Thomas, 38, from Cornwall