Weston-super-Mare's Grand Pier to charge £1 admission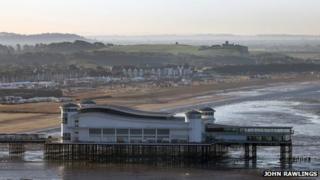 Weston-super-Mare's Grand Pier is to start charging for admission.
The company said it would impose an entrance fee of £1 per person from 4 April, although there will be no charge for children in pushchairs.
It said since its rebuild in October 2010 the pier's operating costs are three times higher than before.
In a statement on Facebook the company said it has had "no option but to charge a modest admission charge".
'Real shame'
Co-owner Michelle Michael said they had tried to resist charging patrons.
"This building cost £52m to build and it is something that costs many, many thousands to simply open the doors," she said.
"It's the increasing costs of maintaining the structure from the deck and under which most people can't see."
'Angry reaction'
But following the announcement more than 400 people have criticised the decision on the attraction's Facebook page.
Nadia Marsh said: "I think all Weston people should boycott it until they realise that this a very big mistake. The people of Weston have supported the pier we have very little left to do in the town now with our children and to charge us is a massive joke."
Hazel King described the move as "sad" and said: "For a family day out it is getting so expensive. I think a lot less people will visit now. I wont be paying a £1 a person to walk the pier."
And Dan Russell said it is "a real shame for Weston as a whole".
"There will be an angry reaction to anything that's free and subsequently a charge is levied," Ms Michael said.
"It isn't something that we have done lightly," she added.
The pavilion of the Grand Pier was destroyed in the blaze in July 2008 which was started by an electrical fault.
It re-opened in October 2010 following an extensive refit.
The Grade II-listed structure first opened in 1904 and the original pavilion was destroyed in another fire in 1930.