Glastonbury Abbey's 14th Century kitchen re-opens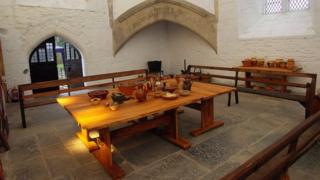 A medieval kitchen in the grounds of Glastonbury Abbey has re-opened after a year of conservation work.
The Abbot's Kitchen was originally built in the 14th Century and had four fireplaces with enough capacity to cook lavish banquets for hundreds of guests.
Abbey director, Janet Bell, said: "We've tried to show realistically what kind of food would have been produced in these areas."
The project is part of a wider plan to restore the Glastonbury Abbey ruins.
Each of the fireplaces within the kitchen have been displayed to show the different ways it was used: spit-roasting, baking, boiling and washing up.
The conservation work has also included removing early 20th Century cement mortar from the outside of the building.
"We've used traditional lime mortar and we've repaired some of the damaged stonework and inside we've done repair and lime washed the whole of the inside," Mrs Bell said.
"We've installed heating and lighting so it feels much more comfortable and we've completely redone the displays in a much more authentic medieval style."