Bath Foodbank Easter eggs stolen in break-in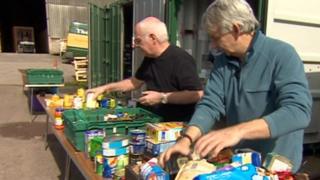 Thieves have broken into containers used to store goods for a food bank, stealing donated Easter eggs and other items.
Volunteers at Bath Foodbank, run by the Genesis Trust, said they were "shocked and disappointed" by the thefts.
"The Easter eggs would have made a difference to some families, and that's really sad," said David Purdon, chairman Bath Foodbank.
People may only use the bank once every two months and must have been referred.