Somerset M5 pile-up: Lorry struck three times in five seconds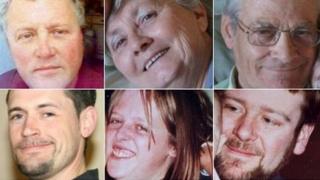 A lorry driver has told an inquest of how his vehicle was struck three times in five seconds in a motorway pile-up on the M5 in Somerset in November 2011.
Seven people died and 51 were injured in the crash, which happened close to junction 25 of the motorway.
Perry Meade said he was lifted out of his seat during the second impact which he described as "extremely violent".
Geoffrey Counsell, the organiser of a fireworks display, faced health and safety breaches. He was later cleared.
'Shunted violently'
Following that trial, the West Somerset coroner Michael Rose said he intended to resume the inquest.
In a statement read out to the court, Mr Meade, who works for TNT, said he had stopped his lorry after seeing brake lights in front of him.
He was just about to put on his handbrake when he was struck from behind, the inquest in Taunton was told.
"There was very quickly a second impact from behind, which was worse than the first one," he said.
"At the point of the second impact I was trying to get out of my seat to move across to get out of the passenger side, as it wasn't safe to get out of the driver side.
"The second hit was extremely violent and it was as if the truck was being shunted violently from left to right, like someone had grabbed it and given it a good shake.
"I was lifted out of my seat on to the dashboard and back into my seat again.
"I was disorientated and I went to climb out of the passenger side when we were hit for a third time and I was thrown against the dashboard.
"This impact wasn't as violent as the second one and it was more of a rocking-type motion - it almost felt like it wasn't a direct hit."
On Monday the court heard from a number of witnesses who drove past Taunton on the motorway within an hour of the crash.
Many described a smell of gunpowder and driving into a "wall" of fog.
Those who died were:
Michael Barton, 67, and his daughter Maggie, 30, from Windsor in Berkshire
Grandparents Tony and Pamela Adams, from Newport in south Wales
Battle re-enactor Malcolm Beacham, 47, from Woolavington in Somerset
Lorry driver Terry Brice, 55, from South Gloucestershire
Lorry driver Kye Thomas, 38, from Cornwall