Lower speed limit for Bristol and Bath flood rat-run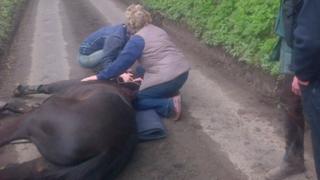 A 20mph speed limit has been introduced on the back roads between Bristol and Bath while a flood-hit road is closed.
Villagers called for the move claiming the closure of the A431 at Kelston had led to increased and "unsafe" traffic.
They added that a horse had to be put down after it was hit by a car on Marshfield lane in Upton Cheyney on 24 March.
South Gloucestershire Council said the lower speed limit was "being implemented right now".
Part of the A431 Kelston Road was shut in mid-February amid concerns that subsidence could lead to a "catastrophic" or "fatal" landslip.
Local horse riders say they have been avoiding riding on the lanes because of speeding drivers.
Grant Cann had to have his horse put down after it was hit by a car.
The 71-year-old said: "I saw this car approaching me from a distance, I could see it was going far too fast, and I thought I was in trouble.
"We had to put it down. But it took an hour and a half, so it had terrific suffering."
Erica Williams, South Gloucestershire district councillor for Bitton ward, said driving so fast on the road was "unsafe".
"It's because we have drivers who have not used these lanes before having to negotiate narrow lanes," she added.
"Even if they're not speeding they need to be aware that if they're only driving 30mph and they need to stop suddenly they will slide an awful long way."
A spokesman for the council said: "I can confirm that the 20mph speed limits are being implemented right now. They will apply to Marshfield Lane as well as Brewery Hill."