Bath to host stage six of the Tour of Britain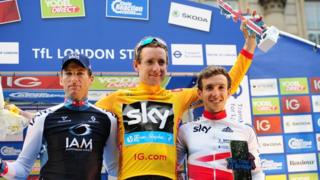 Bath has been chosen to host stage six of the 2014 Tour of Britain, for the first time since its revival in 2004.
Bath & North East Somerset Council said the 200km (124 mile) stage will set off on 12 September from the Royal Avenue before completing a lap of the city.
Riders will then head east out of the city, skirting Salisbury Plain before finishing in Hemel Hempstead.
Race director Mick Bennett said it was "a first" for the race and "one that we are very much looking forward to".
The Tour of Britain is due to begin in Liverpool on 7 September with the finishing stage in central London on 14 September.
Upgraded for this year by the UCI - the sport's world governing body - it is now a tier below cycling's most prestigious races, such as the Tour de France.
"Bath is a world famous visitor destination around the world," said Mr Bennett.
"So in the first year that the Tour of Britain has achieved the upgraded HC status it is fitting to be starting a stage there."
As well as Bath, riders will also be racing into Bristol from Worcester on 10 September at the end of a 182km (113 mile) leg, before tackling the climb up Bridge Valley Road to the finish on Clifton Downs.