Somerset flood crisis: Community fund nears £1m mark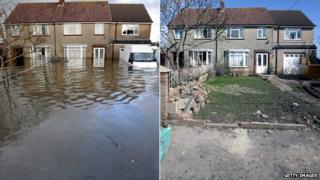 A charity fund to help Somerset people affected by winter flooding is expected to have raised £1m by the end of March.
Of that money, the group responsible said £260,000 had already been given to more than 350 households affected.
Storms at the end of last year led to chaos with much of the Somerset Levels remaining underwater for three months.
The Somerset Community Foundation fund is one of many in existence. More than £20m has also come from the government so far to help with flood repair work.
The community group said its fund had grown with donations from individuals, local businesses, charitable trusts and fundraising events.
It added it expected to be using the fund for up to three years.