Dredging gear installed on Somerset Levels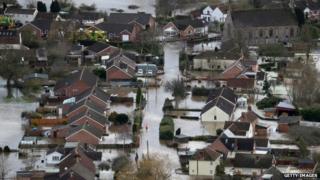 Dredging equipment has been installed along a Somerset river to help prevent future flooding on the Somerset Levels.
Practice sweeps are taking place before dredging starts on the River Parrett on Monday, the Environment Agency said.
In January, Prime Minister David Cameron announced rivers in Somerset would be dredged once all the flood water had drained off the Levels.
Dredging is part of a 20-year plan to restore water capacity of rivers on the Levels to how they were in the 1960s.
The Environment Agency said the first stretch of the river to be dredged was between Burrowbridge and the Northmoor pumping station.
Between now and Monday work will take place to clear vegetation along the banks and test whether the land is stable enough to support the dredging machinery.
'Further investigation'
The Somerset Levels and Moors Action Plan estimates it will cost £100m to carry out immediate action to manage water levels.
The costs of the plan could go up by another £200m to raise roads and railway lines in other major projects, but further investigation work is needed before this sum is confirmed.
So far, the government has pledged £10.5m towards the plan.
A further £1.5m towards the cost has already been raised from Somerset local authorities, drainage boards, the Environment Agency and the Royal Bath and West Society.
The idea of dredging rivers on the Levels has been welcomed by farmers, but others believe it will not solve the problem and better land management is needed.
Tony Whitehead, spokesman for the RSPB (Royal Society for the Protection of Birds), said the charity did support the dredging but it was "only part of the solution".
He said measures should be taken to slow the flow of water into the rivers from the catchment areas, such as putting in vegetation and putting in curves so the water flowed more slowly along the rivers.
This would also benefit wildlife, he added.