Catherine Wells-Burr murder: Petition to PM urges Polish transfer ban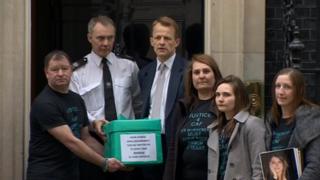 The family of a murdered woman have handed in a petition to the prime minister in an attempt to stop her killers being transferred to Poland.
Rafal Nowak, Anna Lagwinowicz and Tadevsz Dmytryszyn were jailed for 32 years in June for murdering Catherine Wells-Burr in Chard, Somerset.
Nowak and Lagwinowicz have applied for transfer to their home country.
About 6,500 people have signed the petition calling for them stay and serve their sentences in the UK.
Nowak plotted the murder of Miss Wells-Burr with his ex-girlfriend Lagwinowicz and her uncle, Dmytryszyn, in order to claim a life insurance policy.
The victim's family fears the jail terms could be cut by seven years under the Polish system, if Nowak and Lagwinowicz are moved.
Miss Wells-Burr's mother Jayne said the idea of a transfer made a "mockery" of the justice system.
She said if the pair were transferred the family would "never know if they are truly remorseful for their actions"
"This was a serious crime for financial gain with plotting and planning for many months, and the destruction of our daughter's body that could only be identified by her dental records," Mrs Wells-Burr said.
She said the family's victim impact statements would "become null and void" if the transfer went ahead.
The Ministry of Justice said the UK had a prison transfer arrangement with Poland and it was committed to seeing more offenders serve sentences in their home country.