Giant water pumps in Somerset switched off as water levels drop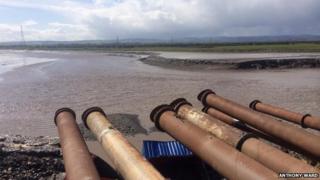 The giant Dutch water pumps brought in at the height of the flooding crisis in Somerset have been switched off.
Eight pumps at Dunball, Bridgwater, were brought in from the Netherlands by the Environment Agency to divert water and reduce levels in the River Parrett.
At the height of the floods they were pumping millions of tonnes of water every day from the Somerset Levels
They will be dismantled over the weekend and sent back to the Netherlands.
Paul Gainey, from the Environment Agency said the pumps had been "hugely effective" but now the water levels were falling "they are no longer needed".