Somerset flood car £101k eBay bid 'was hoax'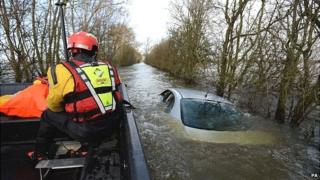 A £101,100 winning eBay bid for a submerged car - which became the unofficial symbol of the Somerset floods - appears to have been a hoax.
Hubert Zajaczkowski, 21, auctioned the Seat Toledo to raise money for charity.
The car was abandoned near Muchelney on Christmas Eve and became a familiar sight in the media over the following months.
Mr Zajaczkowski said he contacted the bidder but he refused to pay, saying it had been intended as a joke.
He told the Central Somerset Gazette the bidder was a 17-year-old boy who had been encouraged by his 12-year-old brother.
He said he had now contacted two lower bidders who offered £101,000, in the hope that their bids were genuine.
In the sale description, Mr Zajaczkowski wrote: "Genuine Seat Toledo from the floods in Somerset.
"Obviously NOT in working condition, but my aim is to sell the car and donate the money to a charity which is helping with the floods.
"Any questions please message me. Collection only."
Mr Zajaczkowski, an apprentice at AgustaWestland in Yeovil, said: "Someone may be having a joke or a laugh but then it could be a genuine donation.
"I haven't sold anything on eBay before so I will just wait till it all calms down and contact the people to see if it's genuine."
According to eBay's terms and conditions "a bid or purchase on eBay is considered a contract and you're obliged to purchase the item" unless the seller is "willing to cancel the transaction".
A spokesman for eBay said the company would be contacting Mr Zajaczkowski to offer him help.
"We don't allow under-18s to use eBay, and take the matter of non-genuine bids very seriously indeed," he added.
"Making bids of this nature will lead to buyers having their accounts closed.
"We are sorry to hear of the problems with this auction and will be in touch with the seller to help him."