Yeovil College to build £1m building skills centre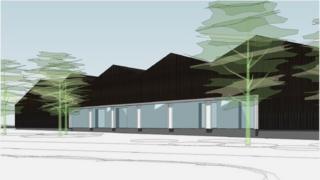 Students learning trade skills such as plumbing are set to be taught the subject in a new £1m centre.
Yeovil College has secured a £540,000 government grant aimed at improving vocational training facilities.
Principal John Evans said the centre was crucial for students to develop advanced techniques needed in the building industry.
The new centre will replace temporary buildings and a car park on the main campus in Mudford Road, Yeovil.
Work will begin by the end of April with the aim that the building will be finished in time for the new academic year.
The new building replaces the current training centre based at Houndstone Business Park, Yeovil.