New shelter for Burnham-on-Sea Pier pavilion approved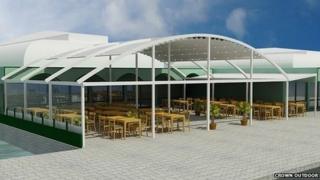 A planning application to build a new shelter for the pavilion at Burnham-on-Sea Pier has been approved, despite being recommended for refusal.
The £60,000 structure will be partially retractable and provide cover for people who want to eat in the cafe.
A planning officer at Sedgemoor District Council had said the scheme would harm the character and appearance of the building and surrounding area.
However, it was approved by councillors in a meeting on Tuesday.
A further £40,000 of improvements to the pier were also approved.