Bath's Victoria Bridge: Revamp starts on 'unsafe' bridge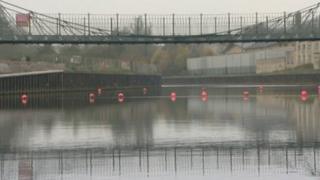 A £3.4m project has begun to refurbish a footbridge in Bath which was shut four years ago due to it being unsafe.
Engineers had assessed Victoria Bridge, over the River Avon, and reported its condition was rapidly deteriorating.
Work is now under way to take the footbridge to pieces before it will be reassembled using steel parts making it strong enough to meet modern standards.
Its appearance will remain similar to the original and the work is expected to be completed later this year.
The listed 19th Century structure is a hybrid between a suspension and a cable-stayed bridge, and formerly had a timber deck in which the weaknesses were found.
'Beautifully-innovative city'
In 2011 concerns peaked and the river and towpath beneath were both closed for two months until temporary straps were applied to make the structure safer.
The following year a truss was built across the bridge and it was reopened temporarily to pedestrians.
Bath and North East Somerset Council has spent the past two years arranging the funding, designing the new bridge with English Heritage and seeking listed building consent for the work.
Liberal Democrat councillor Ben Stevens said: "Bath's great strength is symbolised by Victoria Bridge.
"We are a beautifully-innovative city and the design by James Dredge in 1836 was the first example of his taper suspension bridges.
"This is a Grade II*-listed structure and it will be rightfully refurbished for future generations to enjoy."