Ashcott lorry-spill sludge tests carried out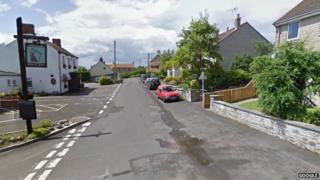 Black sludge that spilled onto a road when containers fell off a lorry in Somerset is being tested to establish what it is.
Eight 1,000 litre containers were found on the A39 and Ashcott village High Street after the fire service was called at 15:00 GMT on Sunday.
Some of the containers had split on impact and were leaking the sludge.
The fire service said the substance is thought to be a "waste product" and not hazardous to health.
Somerset Highways officials said they were waiting to identify the substance before moving it.
Drains sealed
Four of the leaking containers were found on the A39 and four more were reported in the village, two of which were leaking.
Devon and Somerset Fire and Rescue Service said the containers have come from a lorry which shed its load.
A spokeswoman for Avon and Somerset Police added officers spoke to the lorry driver at the scene and no further investigations were required.
Nearby drains have been sealed to prevent the substance entering water courses.
Temporary traffic lights on the junction of the A39 and A361.
The Environment Agency was also informed.