West Somerset Council spend £150,000 on scrapped Watchet development plans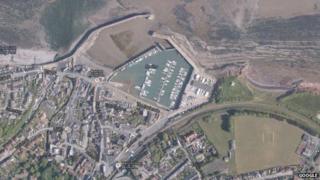 Scrapped plans to redevelop Watchet's East Wharf have cost the local council £150,000 without a single brick being laid, it has been revealed.
West Somerset Council has admitted it spent "money it did not have" on the failed scheme.
Plans were drawn up with developers Urban Splash more than a decade ago for a £12m scheme that included apartments, shops and restaurants.
The council pulled out of the agreement in February after numerous delays.
Following a Freedom of Information request by BBC Somerset, the council revealed that since 2003/4 it has spent £275,000 on the project.
It said there was an income, including funds from Urban Splash, of £125,000 - leaving a net loss of £150,000.
The figure includes legal fees, consultant and architect fees, repayment of the developers' deposit and interest.
'Stranglehold'
Tim Taylor, council leader, said most of the money was spent before 2010.
"Up until about that time West Somerset was a failing council, and what has happened really has been the council spending money it didn't have," he said.
"These last two or three years we have been stopping the rot and turning this ship around. Since 2010 we have spent only £8,000 on the East Wharf, the remainder £140,000 plus was spent before then."
He added: "We couldn't pull out because we had an arrangement with Urban Splash that went through until 2012 and, more particularly, we had the stranglehold of the lease with the marine operator."
Urban Splash was granted planning permission to redevelop Watchet's East Wharf in 2008, but the recession forced it to delay construction.
The agreement between the company and the council was due to run out at the end of March 2010 if nothing had happened by then - which it had not - but the council was worried about having to return the developer's deposit, and write off around £300,000 in fees.
The council agreed to extend its deal with Urban Splash but three weeks ago the authority announced it was abandoning the plans.
Urban Splash has been unavailable for comment.