Somerset floods: Submerged Seat Toledo returned to owner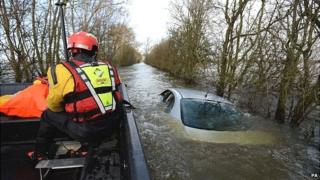 A submerged car that became a familiar sight during coverage of flooding on the Somerset Levels has been reunited with its owner.
The Seat Toledo was abandoned on a road near Muchelney on Christmas Eve.
Now, with water levels receding, 21-year-old Hubert Zajaczkowski has been able to reclaim his car.
He said: "It was shocking, seeing my car on telly and in the international news. Everyone was talking about it, including the Prince of Wales."
Mr Zajaczkowski, an apprentice at AgustaWestland in Yeovil, said he escaped from his car on Christmas Eve as the water suddenly rose.
"I was trying to get home to Shepton Mallet from work and this is the route I took and of course I got stuck in the water."
For weeks, the car remained stranded under several feet of water, filmed and photographed by national and international media and press.
But as the floods retreated, it finally resurfaced - allowing an old military amphibious vehicle to tow it out.
Despite being unable to drive his car home, Mr Zajaczkowski said he was able to reclaim his lost keys and insurance documents.
"It smells, it's unbelievably disgusting in there," he said.
"My insurance documents are covered in grass and all sorts, and my sleeping bag literally weighs a ton and is full of water."
Mr Zajaczkowski said he bought the car two years ago for £600 but was hoping to get rid of it in the spring.
"As you can see, nature did it for me," he said.
But as the car was towed from the water, with Mr Zajaczkowski behind the wheel, he said he felt "proud in a way to be driving it again".