Silver Roman bracelet to go on show in Cumbria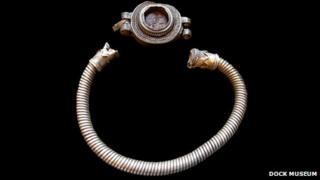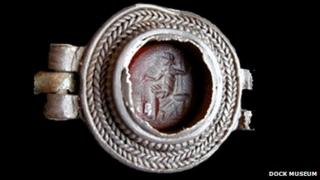 A silver Roman bracelet found in Cumbria is to go on show.
Dock Museum in Barrow-in-Furness raised about £2,000 to acquire the bracelet found in Dalton by a metal detectorist.
The item, thought to date back to second or third Century AD, was found in July 2012 and will go on show in the museum on Friday.
A spokeswoman for the museum said: "It's a superb find and we're excited to have it on display... nothing like this has been found in Furness before."
Inside the gem is a seated Jupiter with wreath and full-length drapery, holding a sceptre in his left hand.
The museum said that although there is no conclusive proof the Romans were in Furness, previously Roman coins have been found in the town along with a statuette of Hercules which was found near Furness Abbey.