Bridgwater barrage in £100m Somerset flood plan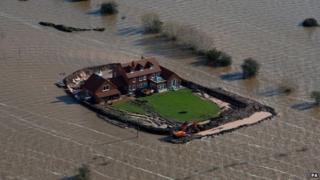 A tidal barrage at Bridgwater and dredging on the Somerset Levels form part of a £100m plan to combat flooding, the BBC understands.
Villages on the Levels have been cut off for more than two months following the wettest winter on record.
Prime Minster David Cameron has said that "money is no object" in sorting out the current flooding problems.
Dozens have contributed to the 20-year Flood Action Plan, which is due to be presented to the government.
The draft report, seen by the BBC, goes in to detail on a number of measures to prevent a repeat of this winter's floods.
It lists actions that could either help prevent flooding, or reduce the impact when it happens, and gives some idea of costs and ease with which they could be done.
The government has already pledged £10m in support for Somerset, but the report suggests 10 times that amount will be needed over the next decade alone.
The plan includes a barrage across the River Parrett downstream of Bridgwater, to hold back the highest tides - but estimates it would be 15 years before that would be built.
It also suggests that the A361 and routes into cut-off communities - including Muchelney - are raised, but adds that this will require further investigation.
The report includes plans previously announced to dredge five miles (8km) of the rivers Tone and Parrett - restoring them to their condition in the 1960s.
It estimates this should start at the end of the month and that it will cost more than £5.5m and then £1.2m each year to maintain.
It also includes repairs to around 28 miles of flood-affected roads, resurfacing them with more flood resilient material and looking at making the pumps at Dunball and Beer Wall permanent to help clear water more quickly.
Local MP Ian Liddell-Grainger backed plans for a barrage saying the county had got to the point that it was a "no-brainer".
"I don't think there's any doubt about that - we could have saved an enormous amount of worry, time and expense by having the barrage," he said.
"The big problem is that you've always had environmentalists saying 'you can't dam rivers' but actually thousands of houses are under threat by not having a barrage."
The Conservative MP said the government had already started to look at the possibility of raising roads.
The 23 page Somerset Levels and Moors Flood Action Plan has been compiled by Somerset County Council, the Environment Agency, residents and other interested parties.
They have also called on the government to look at who manages the water system and how it is all paid for.
The report is expected to be delivered to Environment Minister Owen Paterson on Thursday.