Boat dash to save drowning bees on Somerset Levels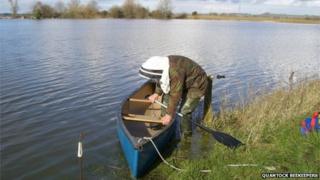 Beekeepers on the Somerset Levels have launched a rescue mission to save colonies of pedigree honeybees.
Scores of hives have been lost in the floods and a breeding programme has been started to replace queen bees.
Beekeepers fear the number of colonies which they know have drowned may "only be the tip of the iceberg".
One keeper, Chris Harries, waded through "rising flood water to remove five colonies that were already under water".
Mr Harries, who runs a honey farm at Creech St Michael, near Taunton, said: "At the moment it's too cold to assess brood nest damage, but some appear to be still alive."
Brian Maskell, who keeps bees near Sedgemoor, could only reach his colonies, on the site of the Battle of Sedgemoor, by canoe.
One hive had already drowned - another, which has a pedigree queen bee, may be safe but he will not know until later this month when the bees come out of winter hibernation.
Meanwhile, Quantock Beekeepers is running a queen rearing programme to help members who have lost bees as a result of floods.
Ken Edwards, secretary, said the breeding programme was especially important "as the queens they breed produce a strain of calm, productive bees which are less trouble to rear".