Submerged Somerset railway line to remain closed for 'many weeks'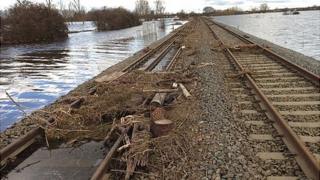 Trains on a mainline in Somerset could be at a standstill for "many weeks" because of continued flooding problems.
The track at Fordgate - between Taunton and Bridgwater - has been submerged since 7 February.
Network Rail said it could not assess the damage until the water cleared, but this could take several more weeks.
Currently, buses are taking passengers between Bristol and Taunton with a shuttle train service between Bridgwater and Bristol.
The line also links Somerset with Devon, where the line has been closed between Exeter and Plymouth because of damage to the sea walls at Dawlish.
Rail Minister Stephen Hammond said the government was "putting a huge amount of extra money in" to counter the problems from flooding.
"Our key priority is the government working with Network Rail to get this whole network back and running as it should be," he said.
"We've asked Network Rail to come up with a long term resilience plan for the South West so that lessons will be learnt.
"And that [Taunton and Bridgwater line] will be one of the lines that we'll need to look at in terms of the resilience lessons but we've got to build in the correct amount of resilience remembering that this is the wettest winter for 266 years."