Somerset Rural Life Museum nears revamp fund target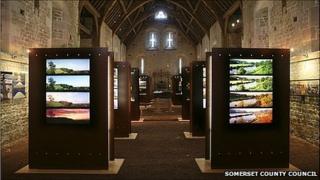 A museum about the rural history of Somerset has almost reached its fundraising target for a major revamp.
The Somerset Rural Life Museum, in Glastonbury, is £25,000 short of its fundraising goal of £1.87m.
Last year £720,000 of Heritage Lottery Funding was awarded to the project. The remaining money has come from grants and fundraising.
The museum, which attracts up to 30,000 visitors a year, has never been refurbished since it opened in 1974.
The project will improve access, displays and visitor facilities at the Abbey Barn, install insulation and heating in the cowsheds, and refresh the museum's displays.
Chairman of the museum's friends, David Heeley, said: "The current site is home to some wonderful exhibits. However, the rich contents of the museum are not displayed or interpreted in ways that meet modern expectations."
David Hall, from Somerset County Council, said: "The money [the friends] hope to raise will make a real difference to the future of a very popular and important museum."
It will be closed from April for two years while the redevelopment takes place.