Somerset rail crash driver 'thought crossing failed'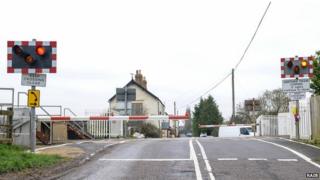 A man who was killed when he drove around a level crossing in Somerset may have "believed the crossing had failed", a report has found.
Dennis France, 65, died when his car was hit by a train at Athelney crossing, near Taunton, in March 2013.
Engineering work meant the half-barrier was held down for longer than usual.
The Rail Accident Investigation Branch has made recommendations to Network Rail to reduce the risk of extended operating times at level crossings.
Mr France, who was due to retire from his job at Debenhams in Taunton a week later, decided to drive round the automatic half-barrier shortly before 06:30 GMT.
'Regular user'
His car was hit by a high speed train travelling from Exeter St David's to London Paddington at about 100mph.
Engineering work had affected the timing sequence of the level crossing which was regularly used by Mr France.
The RAIB report stated: "Since the motorist was a regular user of Athelney level crossing, he may have believed the crossing had failed when a train had not passed the crossing within the normal period within which a train would arrive."
The report said Mr France, from Curload near Stoke St Gregory, had initially waited at the crossing but two witnesses said they then saw the car "roll back" from the lowered barrier and drive around it.
The report found the level crossing was lowered for between 75 and 103 seconds, instead of the 'normal' period of around 29 seconds before the train arrived.
It added that he may have believed that he would be able to see the train and stop in time or else that he had sufficient time to cross before it arrived.
The report also stated that Mr France had not contacted the signaller by telephone before he drove around the barriers.
Recommendations made by the RAIB included asking Network Rail to reduce the risk resulting from extended operating times of automatic level crossings and modifying the location of the pedestrian stop lines at Athelney.
It also recommended that consideration should be given to improving the signage and positioning of telephones at automatic level crossings for non-emergency use.