Somerset flood water levels drop after sluice gate opens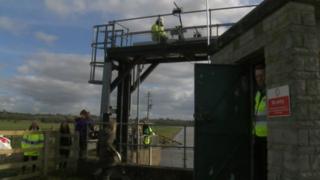 A sluice gate which diverts water out of the River Parrett has been partially opened in an attempt to clear flood water from the Somerset Levels.
The Environment Agency said opening the gate at Monksleaze had allowed pumping to begin on Currymoor to drain the moors around East Lyng.
An agency spokesman said water levels had dropped by up to 30cm in places as a result of opening the gate.
He added the situation was being monitored carefully.
"We have people on the ground observing and if we see any deterioration we will be closing the system down," said spokesman Andy Gardiner.
Once the sluice gate is opened, water is sent down the Sowey River and from there it goes into the King's Sedgemoor Drain and into the sea.