Flood-damaged A431 road to remain closed amid 'fatal' landslip fear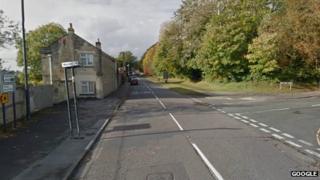 A flood-damaged road near Bath will remain closed for the foreseeable future amid fears there could be a "catastrophic" or "fatal" landslip.
The A431, which connects Bath to Bristol via Bitton, was closed on 17 February after ground movement caused part of the road to subside.
Bath and North East Somerset Council said the damage had been much greater than originally feared.
The road closure applies to all vehicles, cyclists and pedestrians.
"This is not a decision we have taken lightly," a council spokesman said.
"We are already in the process of considering the impacts on journey plans for public transport, especially in light of the end of half-term.
"The landslip is worse than originally feared - it is still active and the ground is continuing to move [and] causing further cracks on the highway surface.
"We cannot risk public safety... there is the potential for a catastrophic landslip that could prove fatal to anyone in its path."
Takings slump
The closure is also affecting local businesses.
Dean Chappell, manager of the Old Crown pub at Kelston, said takings were 30-40% down compared to last week.
The road is shut between Penn Hill Road, in Bath, and Brewery Hill, Kelston.
Diversions are in place inbound via A431 to Willsbridge, A4175 towards the Hicks Gate roundabout, A4 Keynsham bypass, towards the Globe roundabout, A36 Lower Bristol Road, across Windsor Bridge Road, rejoining A431 at Newbridge Hill.
Outbound motorists should take the diversionary route in reverse.
On the other side of the city the B3110 Midford Road is also expected to remain closed for at least four weeks.
The popular shortcut between Bath and the A36 was shut between Midford Lane and Wellow Lane, Hinton Charterhouse, due to a land slip on 30 January.